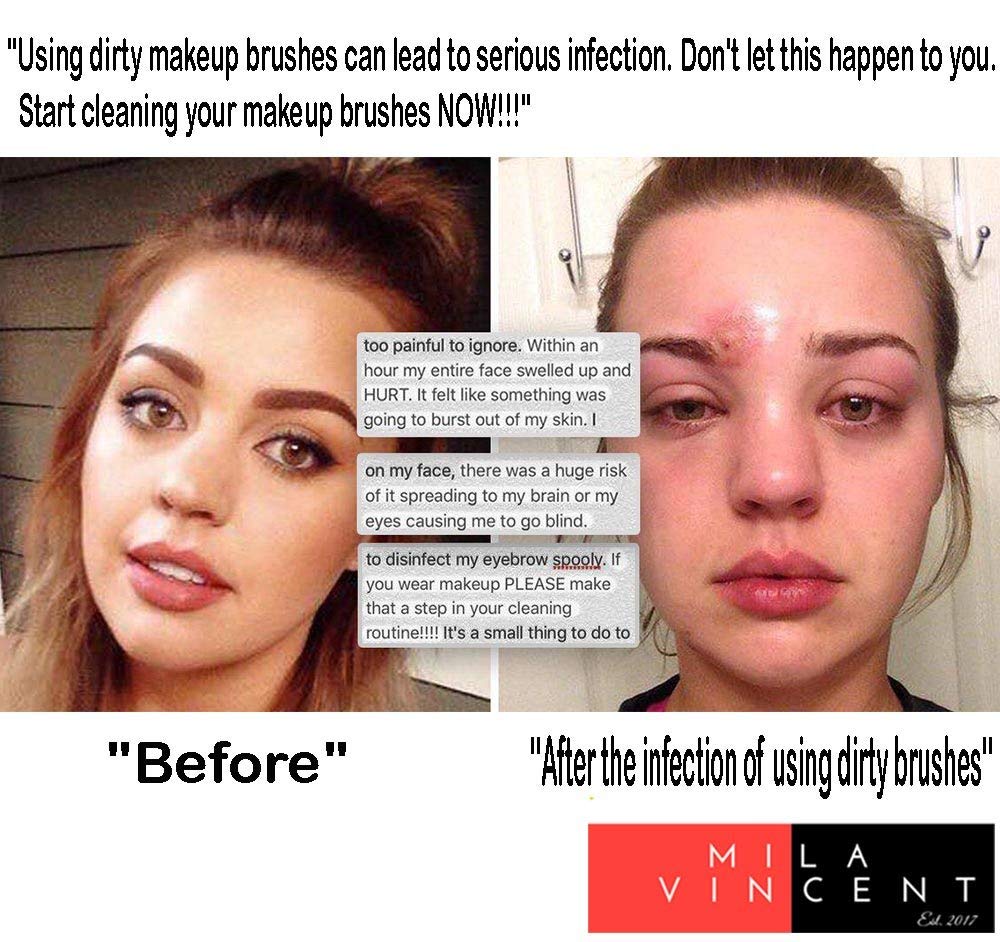 Have you walked into a large cosmetic retailer lately? Have you watched their makeup artists, beauty specialist, cosmetic manager, beauty associate, whatever their title is, apply makeup to an unsuspecting customer? The customer didn't just get to see what the new pantone eye shadow color looks like on her, she also had bacteria, viruses, dirt, debris, feces, and blood applied as well! The best part, it was all FREE! If the newest trend is to have herpes all over your lips, we can tell you right where to pick it up. They are free on the tip of a makeup artist's lip brush. Oh, herpes is not trending right now? Well how about Staph? You can find this on an eye shadow brush at your local cosmetic retailer. Again, it's FREE!

You may think that we are being a little dramatic, but unfortunately we are not. We have personally witnessed several makeup artist that work for a cosmetic companies used dirty, not sanitized and not disinfected brushes on client after client after client. Yep, the unsuspecting client does not know that she has the other clients DNA all over her face right now because the brushes were never properly cleaned, sanitized and disinfected. Oh another thing, those supposed "sanitation stations" are never stocked and don't even have the proper disinfectants available! Some of them may have a bottle of alcohol, but alcohol does not kill viruses like herpes, staph or HIV!

Okay okay, we are getting down on the makeup artist when we should really be getting down on the companies. We have yet to meet a cosmetic retailer that has a standardized sanitation practice that keeps both the employee and the customer safe. You won't believe this, but there is no universal protocol on how to properly clean, sanitize and disinfect makeup brushes and cosmetics. Well, after 22 years in of watching this disturbing practice we decided something needed to change.

Standards for Sanitation
Ourcomprehensive Standards for Sanitation program demystifies what steps are essential for keeping your team and customer safe from bacteria and blood-borne pathogens. It also covers the importance of product care and how to properly educate your customer. This program includes a certificate of completion to show the customer that your company has taken the necessary steps to train your team properly. Additionally, each team member will receive a custom button with the proclamation Sanitation Specialist. The movement "#SanitationConverstation" advocates protection for employees, customers and retailers by standardizing proper sanitation methods.

Your team will learn:
How to identify harmful diseases on the face.
Understand the effects of bloodborne pathogens.
How to properly clean, sanitize and disinfect various tools, products and surfaces.
How not to cross contaminate.
How to properly use and disinfect testers.
Cosmetic retailing
Learn more about our Standards in Sanitation online learning HERE.